XenArmor Website Blocker Pro - 1.5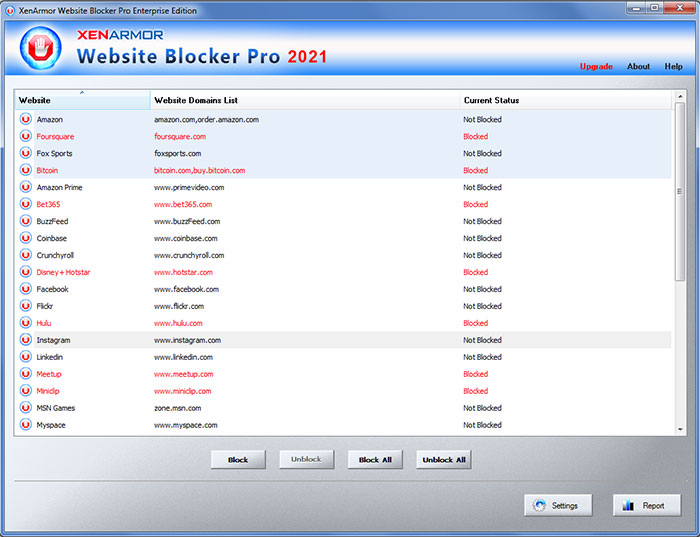 Website Blocker Pro is the enterprise software to help you instantly Block any website on your computer from all web browsers and applications.

One of the unique feature of this software is that it operates in complete Stealth Mode without installing any plugins or running any programs in the background.

Here are the Key Benefits for You,

* Instantly Block any Website on Your Computer
* Easily Block distracting websites, social networks, games, adult sites etc
* Block Website across all web browsers and applications for all users
* Unblock Website anytime with just a click of button
* Settings Panel to Add, Edit or Remove Websites easily
* Unique feature: Block Popular Websites like Facebook, Google, Yahoo, Netflix, Spotify etc.
* Advanced Feature: Operates in Stealth mode, No plugins, No programs running in background
* Right Click Menu to quickly Block/Unblock/Remove Websites
* Colored Display to easily identify Blocked/Unblocked Websites
* Visit Website option to quickly verify blocked Website
* Generate Website Status Report in HTML/CSV file format
* Login Password Protection to prevent others from accessing it
* Includes Free Support Plan to help in Technical Problems
* Covered with 30 Day Money Back Guarantee

Website Blocker Pro is very useful for parents, administrators, educational institutions to selectively block websites without users noticing it.

Website Blocker Pro works on all Windows Platforms (32-bit/64-bit) starting from XP to Windows 10.
By XenArmor Pvt Ltd
Type: Demo
Price: $99