Employee Activity Monitor Professional - 8.4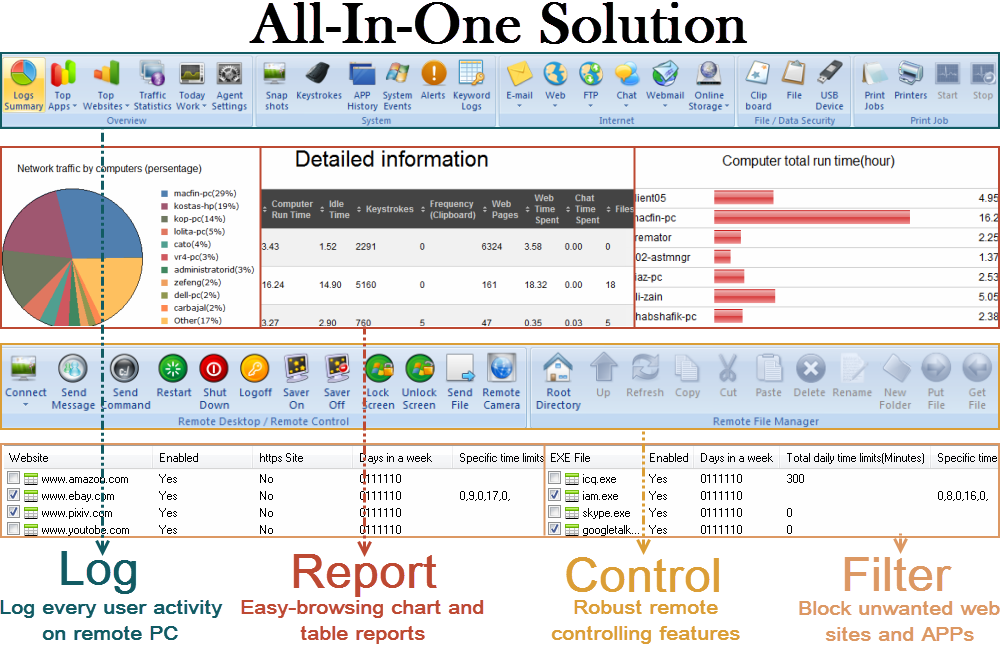 360 degrees computer monitoring software (iMonitor EAM can record every computer activities, include keystrokes, clipboard activities, screenshots, file documents(modify, copy, move, paste, delete, rename, create), print jobs, E-mail, webmail(GMail, Yahoo mail, Hotmail and all other popular webmail), online storage usage, FTP file transfer, websites, searches, file downloads, program usage and time, Skype, QQ, ICQ, AIM, Google Talk chat, removable storage usage, application network traffic, system events and so on. )
Centralized computer monitoring software.
Real time remote desktop monitoring and remote control.
Monitor computer file usage, disable USB device, protect valuable corporate data, prevent potential internal threats.
View the Total Amount of Time a Program was Used, view the Top 10 Most Frequently Used Programs, prevent productivity loss.
Limit computer usage, block website and application.
Keyword alerts and real-time alerts.

iMonitor EAM (Employee Activity Monitor) is a centralized computer monitoring software for Large enterprises, middle-sized and small business. Monitor computer and internet activities, track employee work hours, analysis and statistics employee computer usage, detect and terminate all internal unfavorable factors to the company and protect confidential business information.
By iMonitorSoft
Type: Shareware
Price: $499.95